Lacquer Brow Lamination is the hottest new trend. Brow lamination is a process of reconstructing the brow hairs to keep them in a desired shape. It's the perfect treatment for anyone whose hairs are irregular in direction, have any gaps in between the hairs or who want that fluffy brushed up look. No matter how many products you've tried, brow gel, pomade, soap brows you name it. It is impossible to achieve that fluffy look that will stay in place all day; let alone up to 6 weeks. This treatment creates the look of added volume and fullness by combing the brow hairs over sparse areas and often upwards resulting in that model perfect fluffy eyebrow look, consider it a Brazilian blowout for your brows!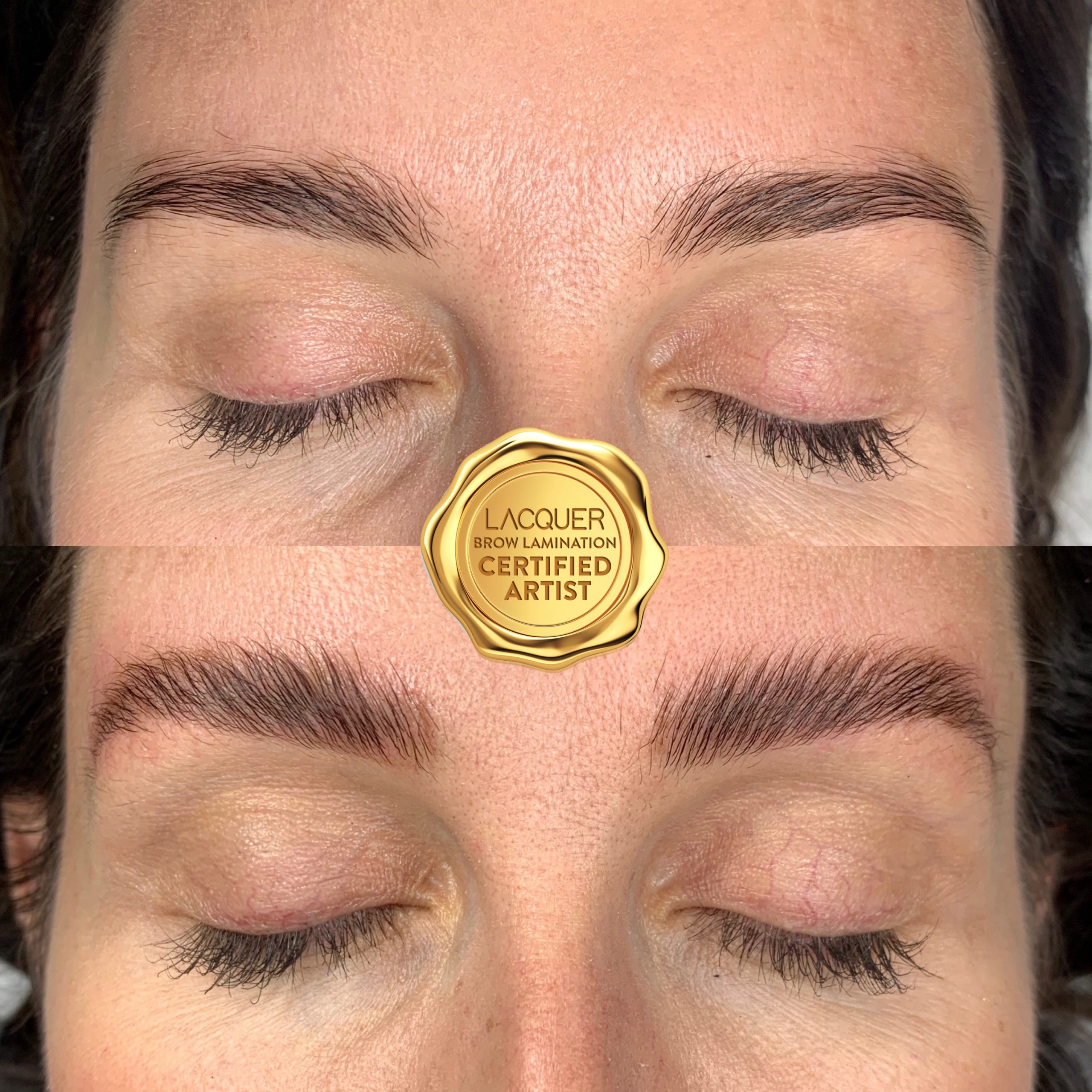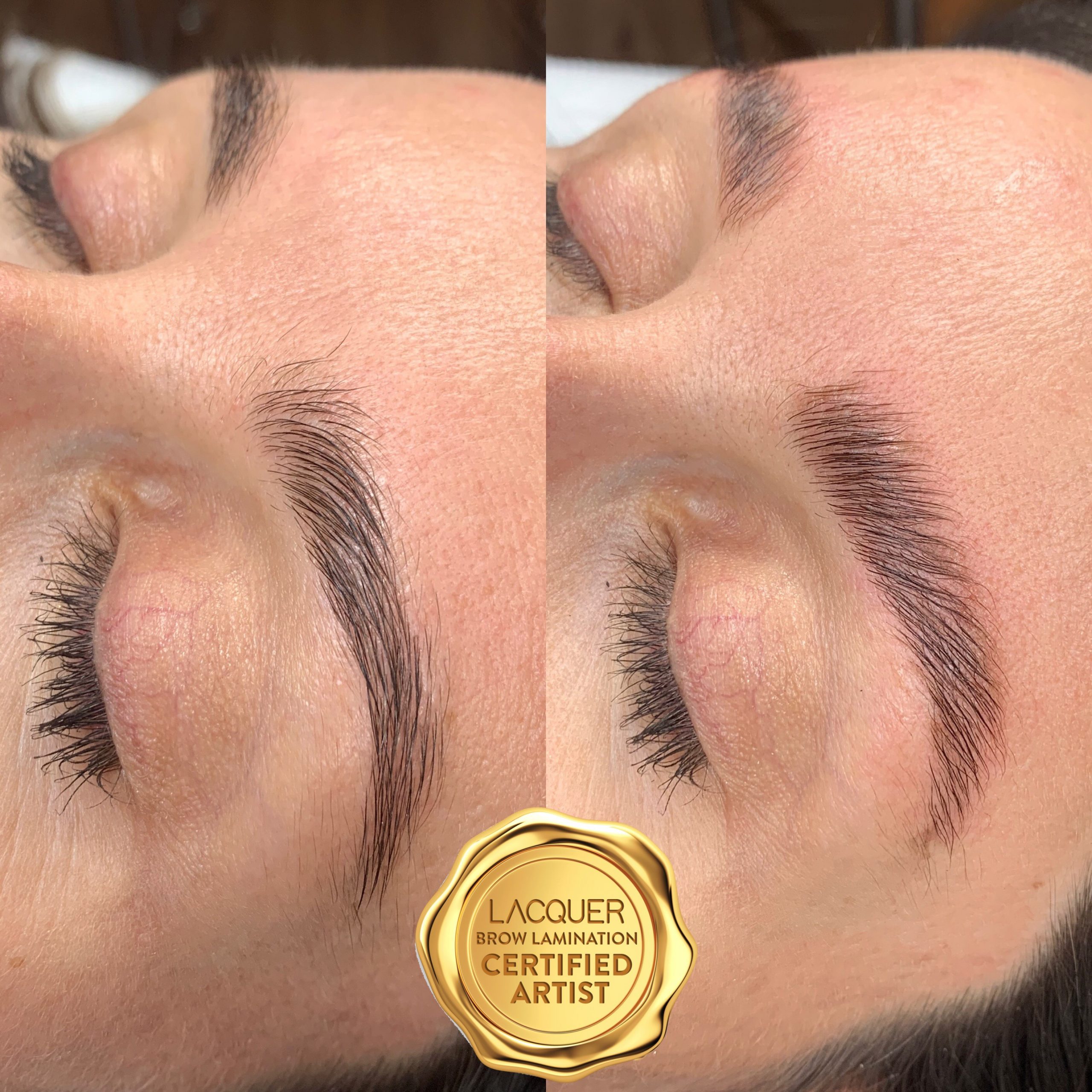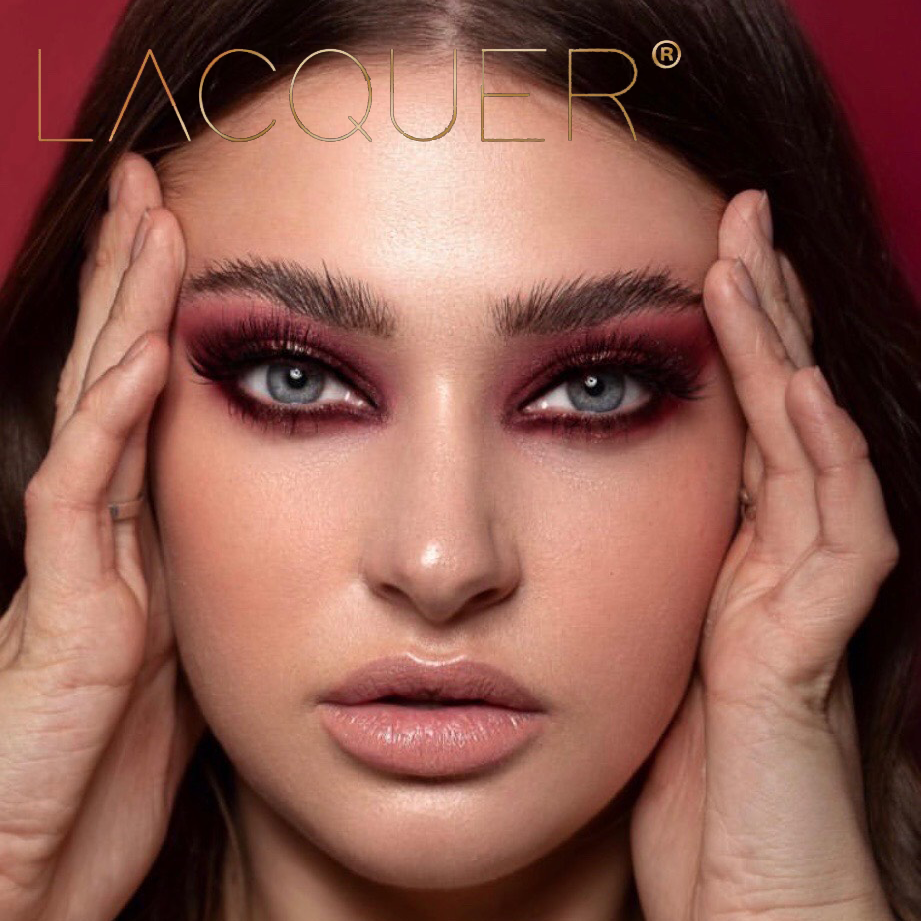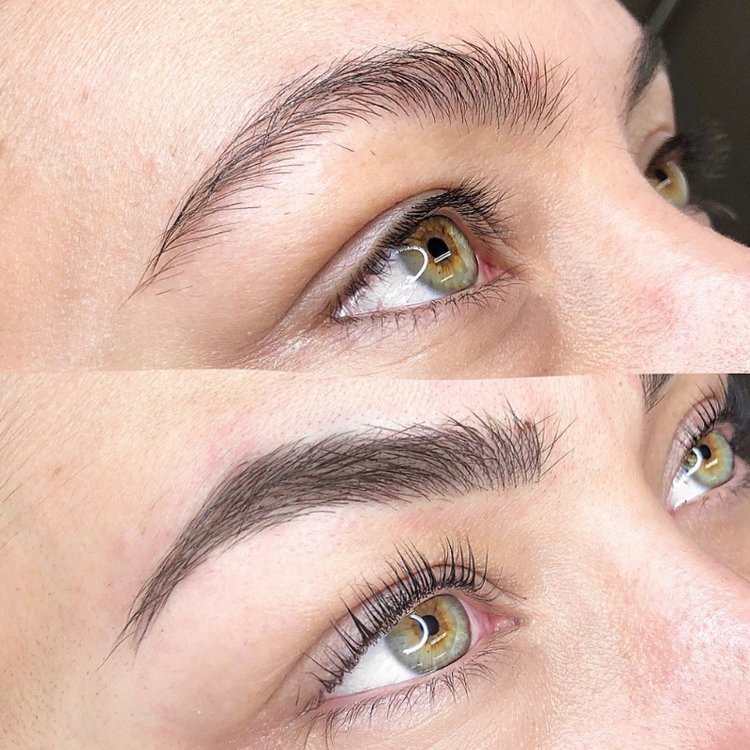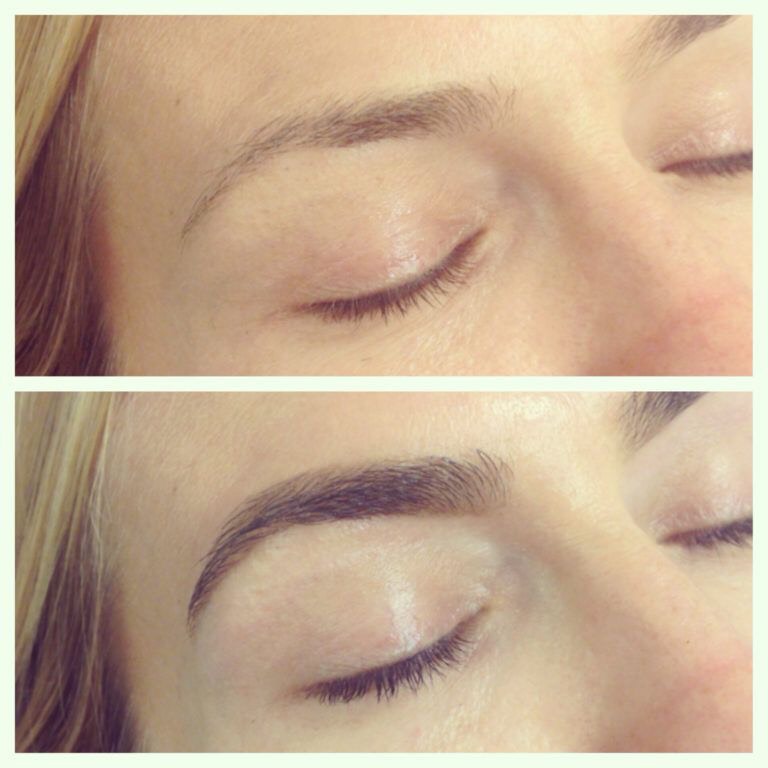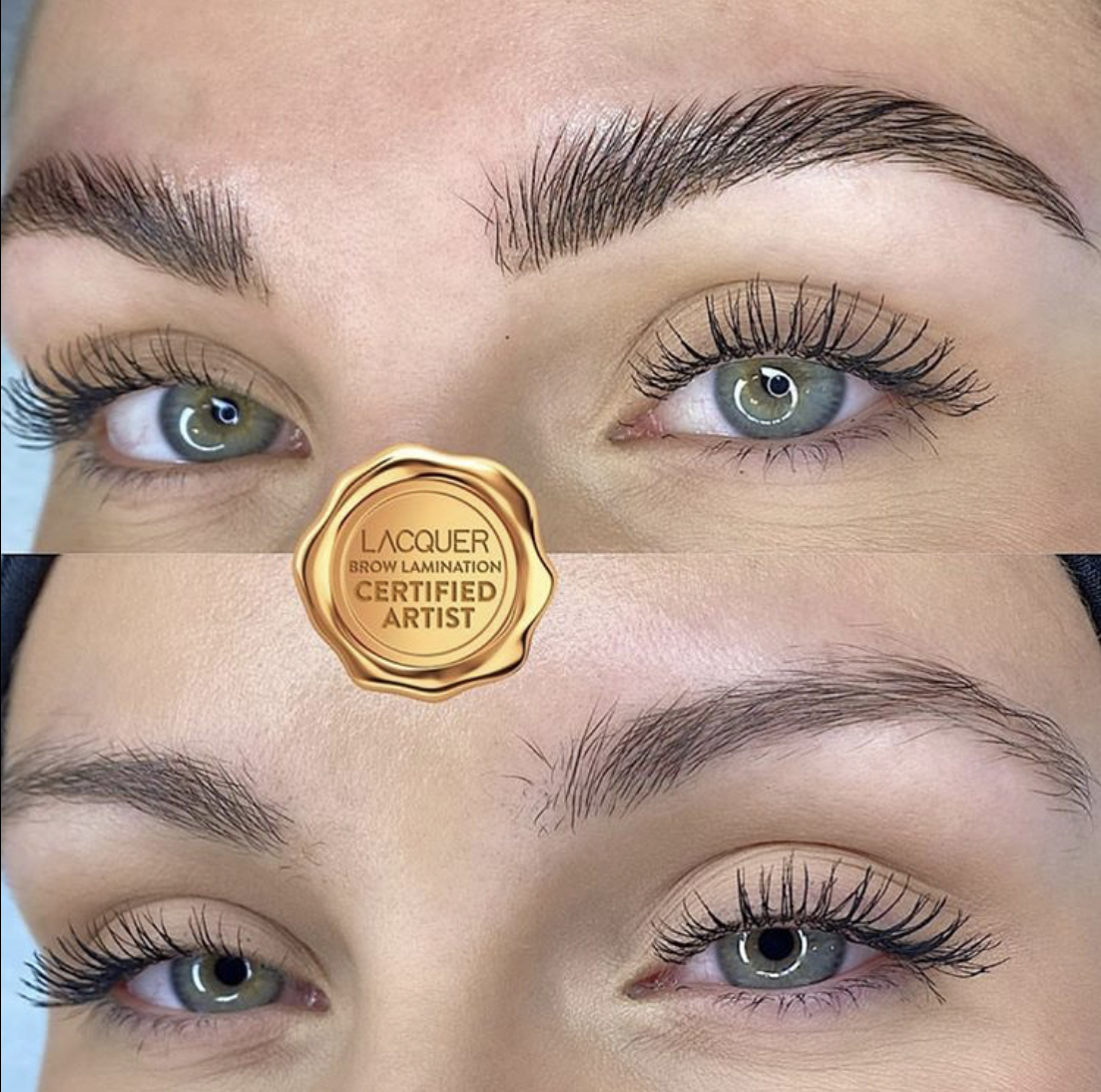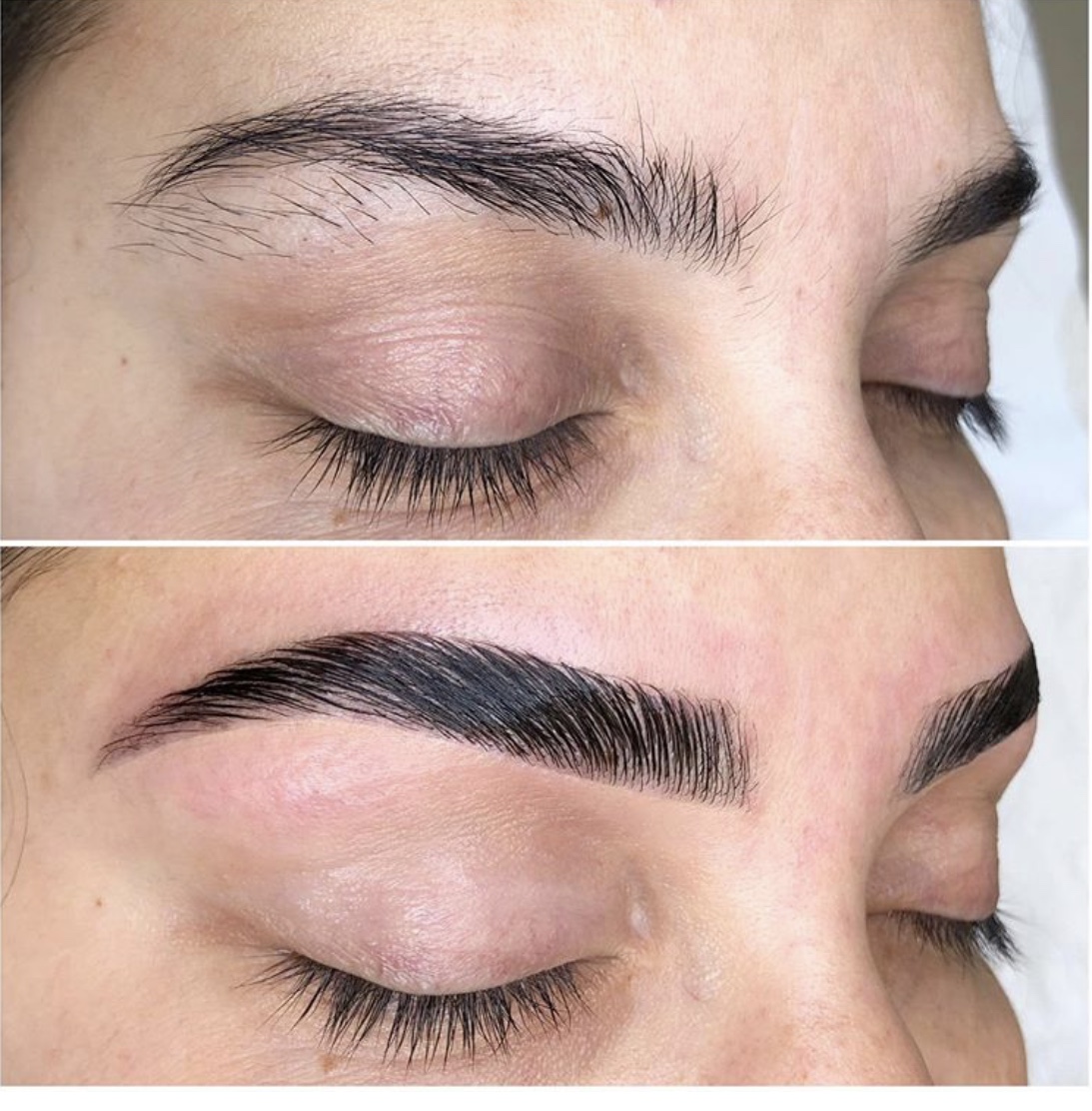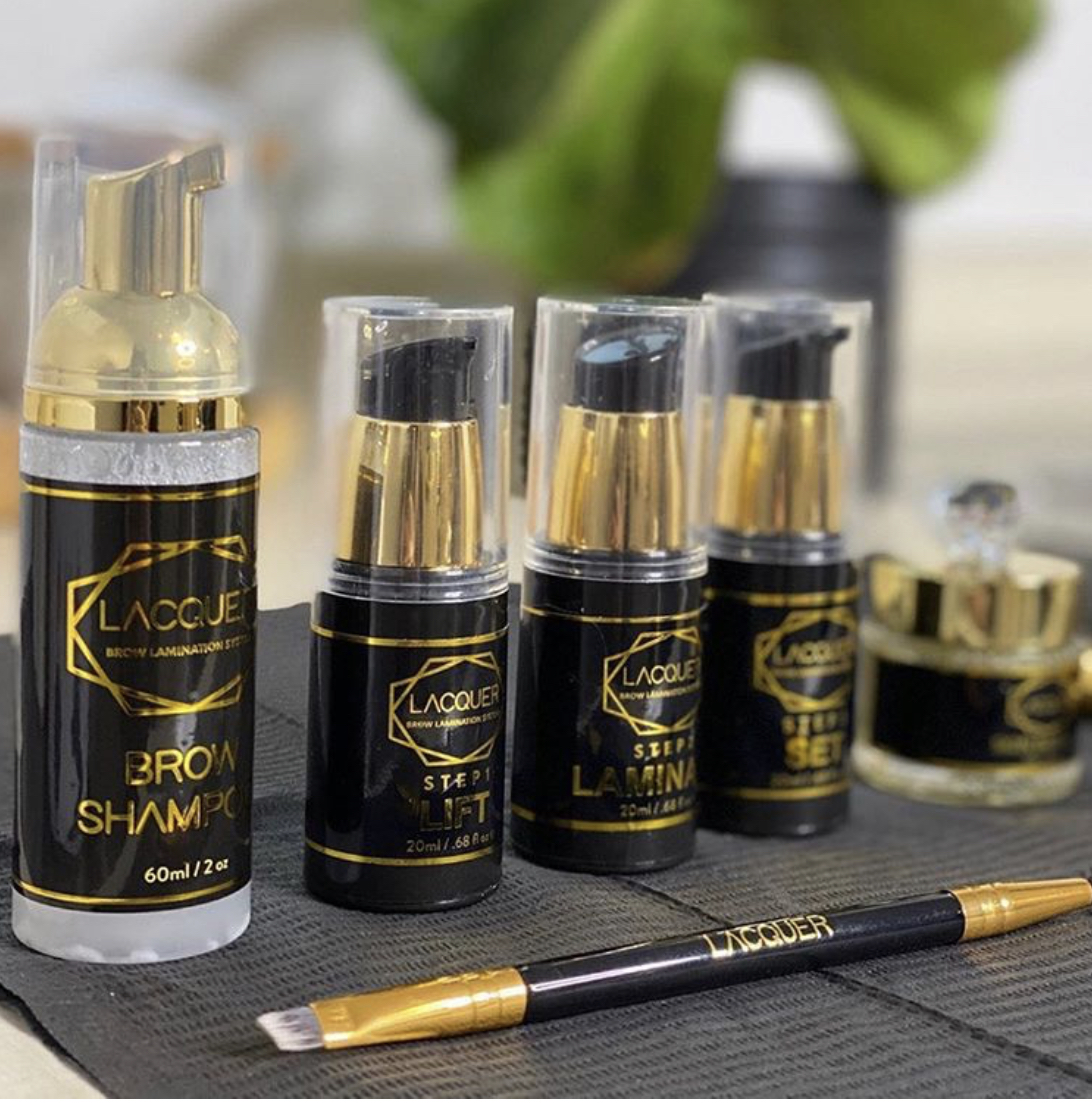 YUMI Lash Lift 2.0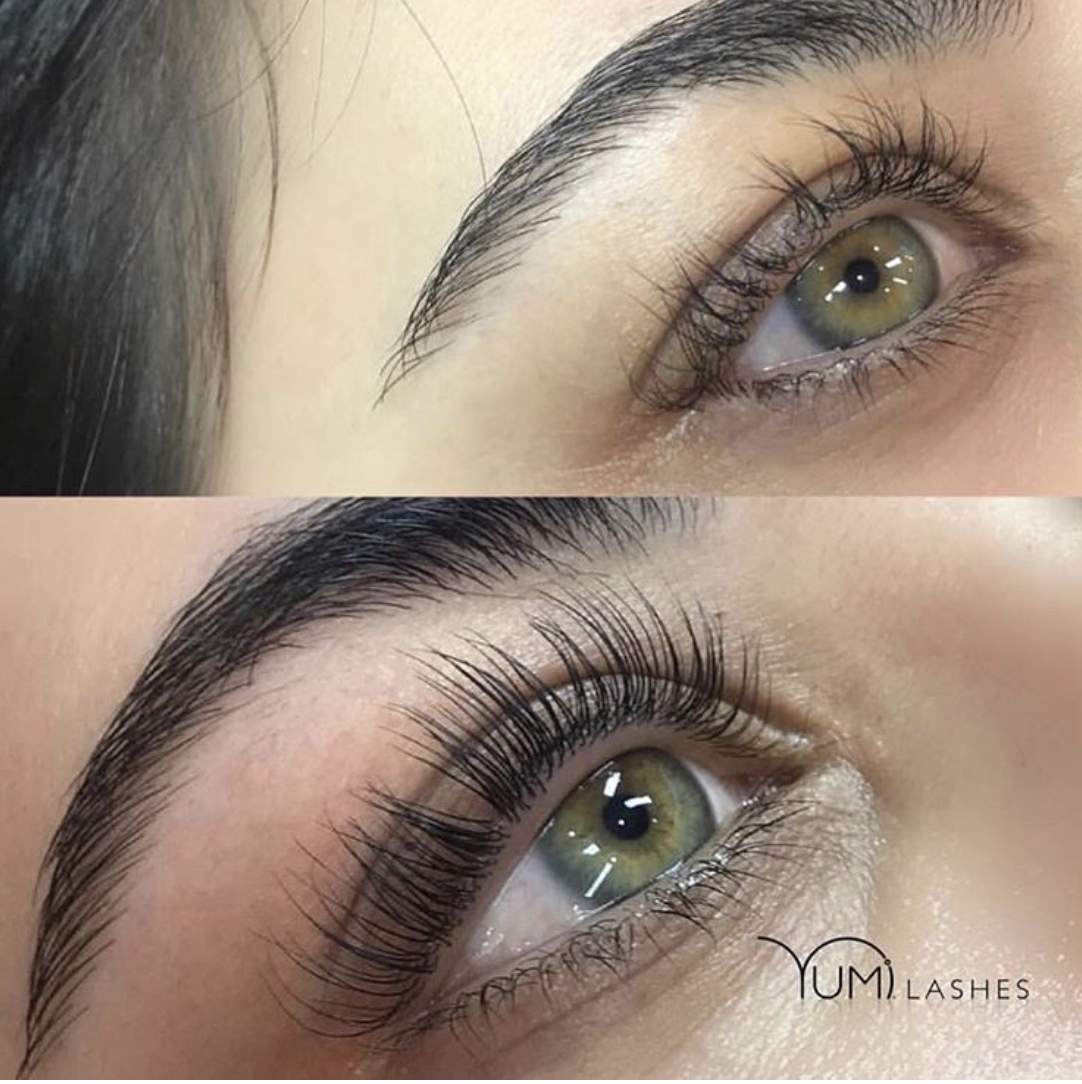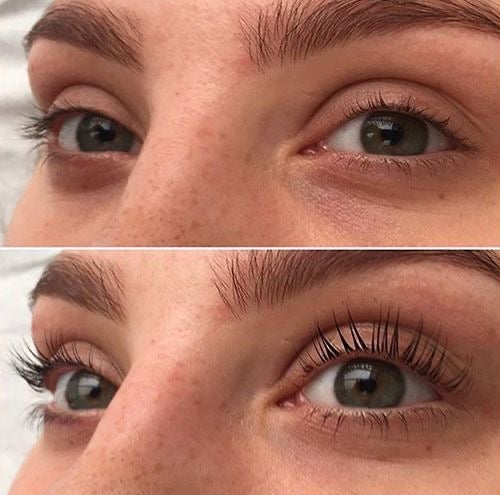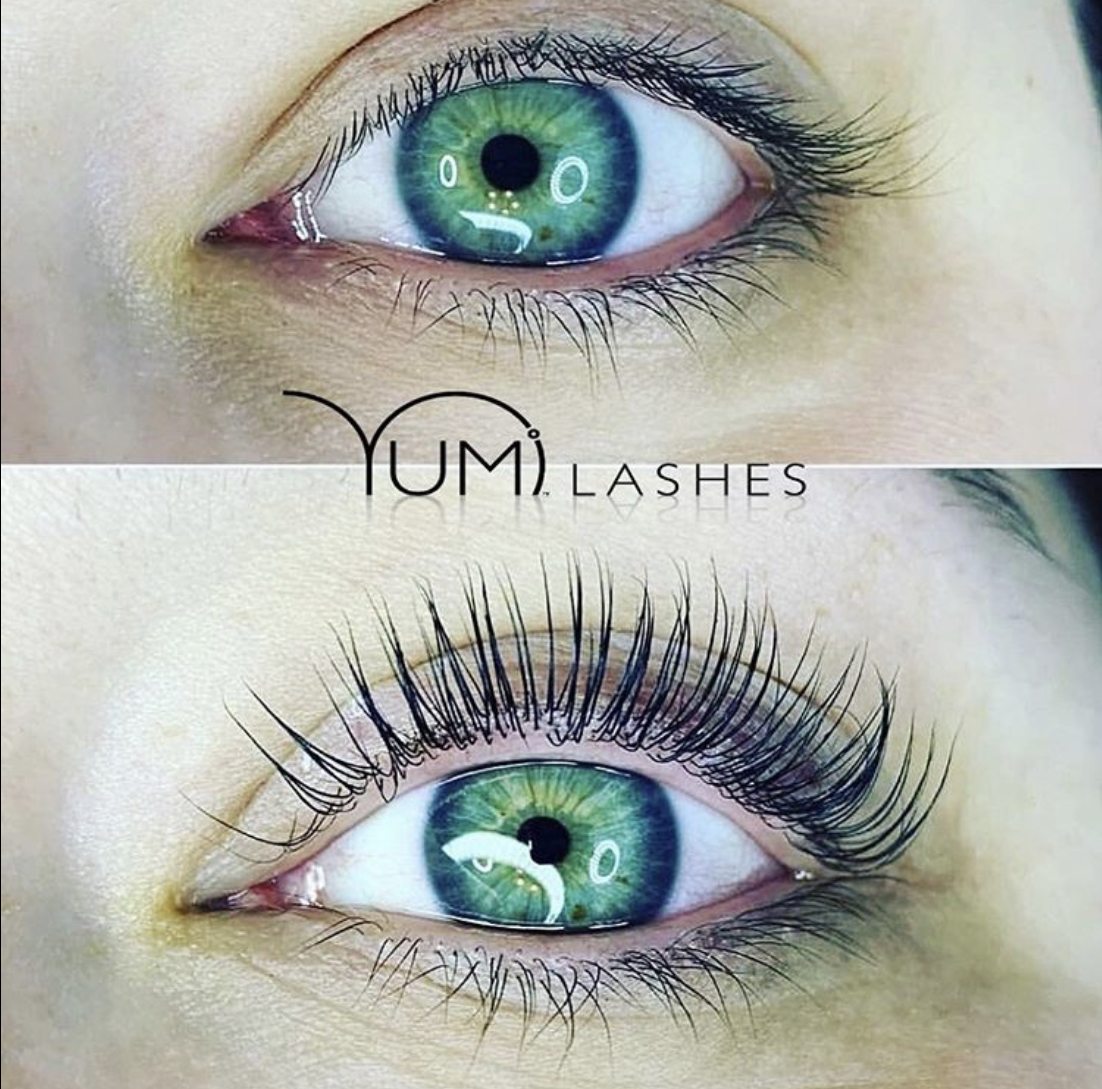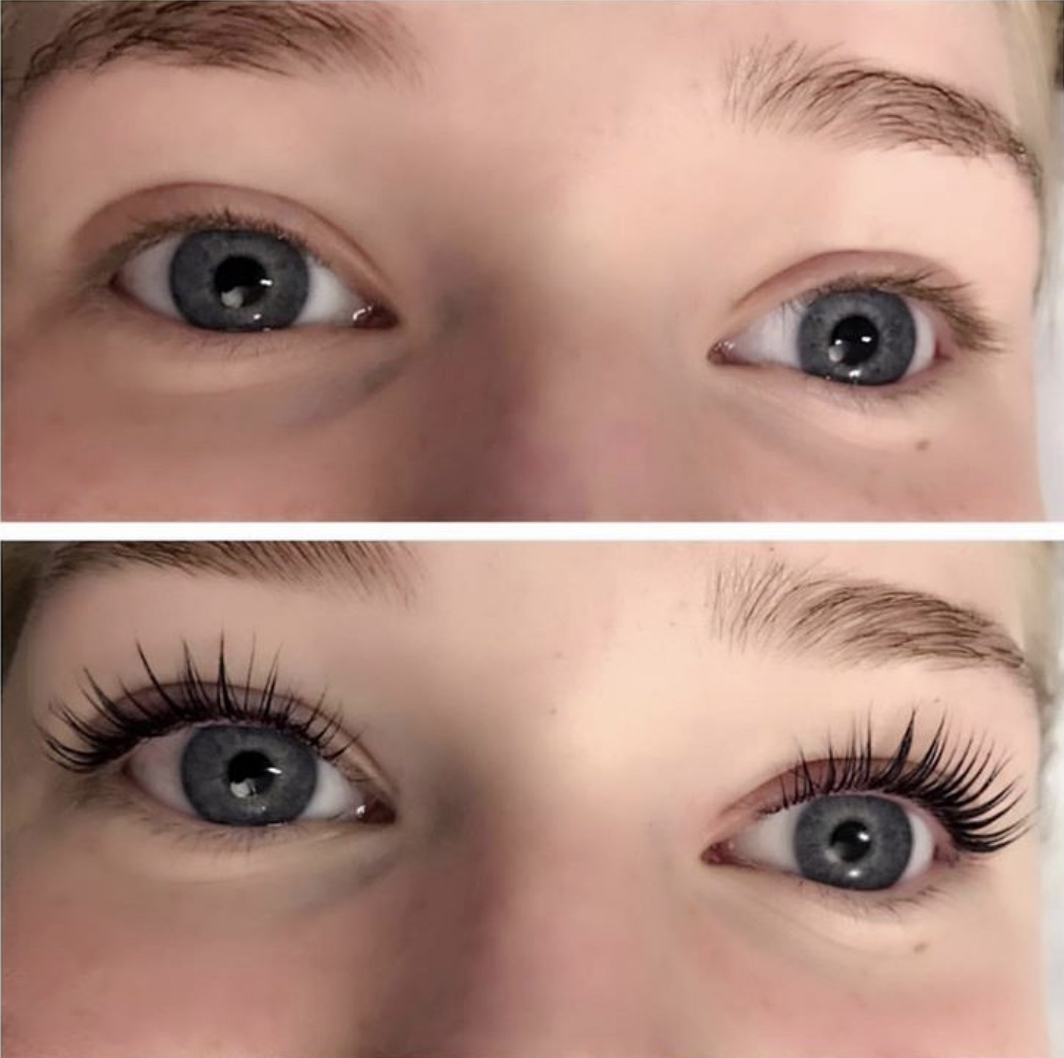 Established in 2008, European Brand YUMI Lashes was born. A nourishing keratin treatment that enhances your natural eye lashes, for a stunning alternative to eye lash extensions.
About YUMI Lashes
The YUMI Lashes treatment is an advanced technique designed to boost and lift the natural eyelash without the need for false lashes, or extensions.
YUMI Lashes is a revolutionary brand, and is the ideal way to enhance the natural beauty of your eyes and lashes in a painless, safe, and non-invasive way.
This treatment is fundamentally different from all other previously known procedures for the eyelashes. YUMILashes are not your typical false eyelashes…this is a keratin lash enhance
How It Works
With this procedure, your natural lashes are lifted up at the root and individually filled with a special keratin and vitamin infusion. As a result, you have thick, dark lashes that curve upwards beautifully. This creates a flattering "open eye" look.
The boosting and lifting effect lasts for 8-12 weeks, which is the natural life cycle of the eyelash. The treatment also involves the application of CoEnzymeQ-10 gel pads to the under-eye area, which has anti-aging properties and will protect the lower lashes throughout the procedure.
Your lashes will be transformed with dramatic impact and enhance the eyes greatly. There are no false lashes attached, or any harmful adhesives used at any point during the treatment.
This innovative treatment works by boosting and lifting each individual lash, then tinting them for a thicker, darker and longer looking appearance which will last for up to 12 weeks!
This NEW Lash treatment will lend a remarkable amount of length, thickness and uplift to your own eyelashes.
This treatment is not to be confused with an eyelash perm. Yumi Lashes technology uses new innovations based on the improvement of the natural structure of each cilium.
FAQs
How long does the Yumi Lashes treatment take?
The Yumi Lashes treatment takes about an hour from start to finish.
Does the Yumi Lashes treatment hurt?
No, this treatment is 100% pain free!
What makes the Yumi Lashes treatment different from an eyelash perm?
The Yumi Lashes treatment and a typical eyelash perm are very different. First off, an eyelash perm curls the delicate eyelash hair, which gives the hair an obvious curl but doesn't do much more. Eyelash perms also use very harsh chemicals that can severly damage or break the natural lash, and can do a lot of damage to the eye if there is a sloppy application.
The Yumi Lashes treatment takes your natural lashes and delicately lifts them from the root to make them appear longer and more full. We are also able to comb and seperate each lash in the process to give the appearance of a more full, more voluminous lash line. The eye appears bigger, the lashes appear longer, and we apply a complimentary tint to give the eyes a great "pop!" Aside from that, the formula is a very gentle keratin protein treatment that adds nutrients and vitamins into the eyelashes. It's hypo-allergenic, cruelty free, and extremely nourishing. What's not to love?!
How long does this treatment last for, and how often can I get it done?
This treatment lasts anywhere from 8-12 weeks, or a whole cycle of the natural eyelash. Eyelashes grow and naturally fall out every 60-90 days. With that being said, depending on the individual, around week 7 you may notice new straight lashes growing in among the previously lifted lashes. a coat of mascara will tuck the straight lashes up with the already lifted ones but you may want to consider booking another treatment In the coming weeks. most guests come for treatments every 6-10 weeks.
This treatment is safe to maintain after 4 weeks.
Can I get the Yumi Lashes treatment done if i'm pregnant or breast feeding?
Absolutely! This treatment is 100% safe for any new mom, or mom to be. However, with all the additional hormones in the body during the time of pregnancy, or post partum, there is no guarantee the treatment will take and manipulate the curl pattern of your natural eyelashes. If you choose to go ahead with the treatment during these delicate times, use your discretion and understand you may experience no change to the natural eyelash.
I have eyelash extensions, can I get a Yumi Lash Lift?
No, you may not get a Yumi Lash Lift with eyelash extension applied. However, this is a great treatment to get before you get your extensions put on. If you have very straight, or extremely curly eyelashes, getting a Yumi Lash Lift before getting your eyelash extensions installed can help make the natural eyelashes blend better.
What is the proper after care after getting a Yumi Lash Lift?
You are not allowed to get your eyelashes wet for a full 24 hours after receiving your Yumi Lash Lift. After that 24 hour period you are free to do whatever you like!! There are no other special instructions!! You can wear any mascara you like (if you choose too), you can wash your face with any type of face wash, you can rub your eyes, sleep on your face, go swimming, whatever you like! These are 100% your own lashes so return to treating them as normal. You can even get eyelash extensions added after if you like, or wear false eyelashes on special occasions.
I have recently undergone chemo therapy, am I able to have a Yumi Lash Lift?
Yes absolutely! Please just let me know before the treatment starts so I can adjust the processing time and make sure your new lashes stay as healthy as possible.
What is the youngest / oldest age that can get a Yumi Lash Lift?
This treatment is hypo – allergenic, non – toxic, and extremely gentle so anyone from a teenager to mature adult is a great candidate for a lash lift. Many of my clients are mature adults who love this treatment because it gives them a beautiful lash line without the worry of having to apply make up. Very natural and glamorous, and no up keep!
I'm vegan, can I get a Yumi Lash Lift?
Yes absolutely! The Yumi Lashes treatment is vegan (the keratin is derived from plant amino acids which are known for their smoothing & reparative qualities), non toxic, hypo allergenic, paraben free, cruelty free, and formaldehyde free. And the adhesive glue we use is 100% sugar cane.
I have really short lashes and/or curly lashes, can I get a Yumi Lash Lift?
Yes! You may be really pleased with the results and realize your eyelashes are actually longer than you thought! Especially being someone with extremely curly lashes, this is a great treatment to retrain the growth pattern of your lashes.
LASH LIFT + BROW COMBOS
Bright Eyes Combo w/ TINT
Keratin Lash Lift w/ Pro Brow Shape + TINT)
Includes: Lash Tint + Hydration Eye Masque
Keratin Lash Lift w/ Pro Brow Shape + HENNA
Pro Brow Shape + Tint
A professional eyebrow shape and tint can make all the difference. It can help frame your face and highlight your eyes.
⠀⠀⠀⠀⠀⠀⠀⠀⠀
What to expect? First a vegetable based tint is applied. These tints are custom blended, and applied for the appropriate amount of time for your specific hair type and colour. Then the perfect shape is mapped out, and a sensitive facial wax is used to remove any unwanted hairs to create a clean, defined brow. ⠀⠀⠀⠀⠀⠀⠀⠀⠀
This is a semi-permanent , inexpensive solution for those looking to enhance their natural brows. Results last approximately 2 weeks.